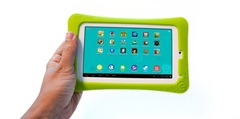 No, its not from Apple.  Google missed this one too.  The toy retailer, Toys R Us announced the introduction of the Tabeo, a seven-inch, Android-powered tablet for kids that will cost $149.99. The device is aimed solely at younger users, complete with specialized browser controls, pre-loaded educational apps and a curated app store to give kids access to a limited number of programs.
The tablet will run a version of Android 4.0 (Ice Cream Sandwich) and will have the ability to connect to the Internet over WiFi. The tablet will only be available from Toys "R" Us stores or the company's Web site. It will go on sale Oct. 21. To keep it kid-proof, the tablet also has a lime-green bumper to go around the outside, which should protect it when "dropped from low heights or bumped into other objects."
Parents can limit the amount of time their kids can spend online, set access for specific days of the week or hours of the day, and can get e-mail alerts if their kids find some way around the limitations.
LeapFrog shares fell dramatically after the announcement, as investors are worried how their handheld, kid-focused devices will be able to compete with tablets running Android. 
This item is primed to be a top seller this Christmas season.